Unicorp National Investments President Chuck Whittall remembered when the coronavirus pandemic first hit.
"Our hotel went from literally making $450K a month to losing $350K a month in literally a one-month swing," Whittall said regarding a Wyndham that his company owns in Orlando. "So it was quite devastating, but now we're seeing the hotel occupancy back over 50%."
Staycationers have kept business humming, he said, and spring breakers have started to come. The 20-acre Icon Park entertainment district is doing well.
"I think we're 100% leased now," Whittall said. Only one or two vacancies remain at his billion-dollar O-Town West project that will finish up construction this fall.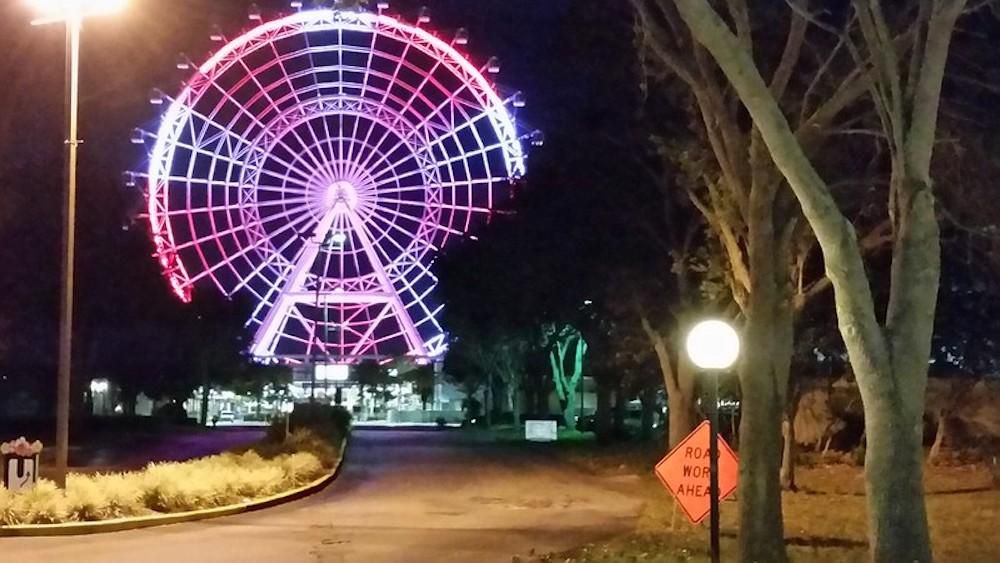 Other key players in Orlando's commercial real estate market predicted at a March 24 Bisnow webinar moderated by Fidelity National Financial Vice President Shanna Cole that the industry would be back to normal, or even busier than normal, very soon.
Equinox Development partner Amy McCook said the tourism corridor around the theme parks and convention center took a hit but is coming back.
"Virtually overnight, it went from entertainment retail to essential retail," she said.
Tenants had to think about how to get people away from their computers: "What is something that can't be replaced by Amazon, and how do you get people in your centers?"
One lasting change is a proliferation of drive-thrus.
"Virtually all of our site plans have gone through revision to add drive-thrus," she said. Some are even incorporating double and triple lanes.
Timeshares have done well in recessions because they are seen as prepaid vacations, according to McCook.
"Similarly, the large vacation rentals that are so prolific in Osceola County have a value proposition because they can be split between several families, are large and they're separated. Now I think some of that has shifted so quickly from being a value proposition to being a social distancing proposition," McCook said.
BTI Partners COO Kevin Mays said that his company's Grove Resort and Water Park, located about 4 miles from Disney World, usually has 4,000 guests, but that figure went to zero when the coronavirus bore down.
"Eighty percent of our buyers are from another country," he said. "So we created developer financing programs because third-party lending sort of dried up in that market."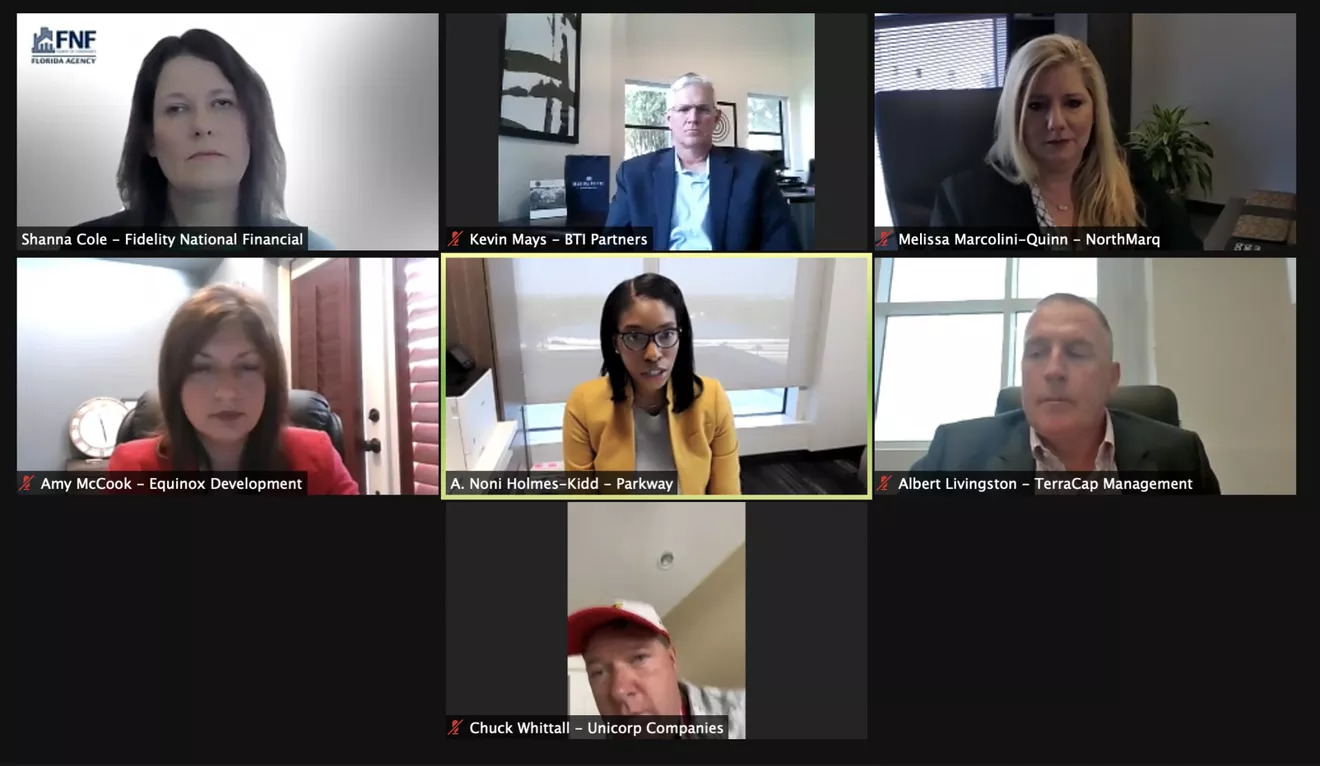 Bisnow
Top row: Fidelity National Financial's Shanna Cole, BTI Partners' Kevin Mays, NorthMarq Orlando's Melissa Marcolini-Quinn; Middle row: Equinox Development's Amy McCook, Parkway Properties' A. Noni Holmes-Kidd, TerraCap Management's Albert Livingston; Bottom row: Unicorp National Investments' Chuck Whittall.
BTI also created a program to help hedge against currency risks and ways to do online notaries, he said, "which doesn't sound like a big deal, but if you're a buyer in Brazil and you can't get to the embassy and don't want to leave your house, we had to figure out how to do that."
Typically, the resort would have 20% to 30% European travelers. To make up for their absence, BTI began advertising to the local and regional market as soon as Gov. Ron DeSantis lifted stay-at-home orders.
A. Noni Holmes-Kidd, Parkway Properties senior vice president, chief administrative officer and general counsel, said her team is looking into suburban multiuse opportunities and how the Orlando market can lure Florida newcomers who might also be considering Tampa and Miami. Affordability and more unique offerings in the office market are key, she said.
"We're looking slightly beyond Orlando and Lakeland and are breaking ground on a 5M SF industrial complex in Lakeland," she said.
TerraCap Management partner Albert Livingston said he too had been looking beyond the Orlando CBD, having recently acquired two light industrial service centers near the airport.
"Our thought was they're land-constrained. There's not a lot of opportunities to build more down there and certainly when things are being built, they're not being built a single-story flex office and close to an airport. That's on target to be one of the largest or the largest in the next five years in the country," Livingston said.
"Even through Covid, we've been able to push rates fairly significantly and keep our occupancy up in that market," Livingston said. "Another strategy we have is looking at big blocks of space and migration into Florida and specifically Central Florida" to appeal to companies that are relocating.
Mays said BTI is active all over the state, including Tampa and Hollywood. He is keen to buy 1,000-acre-plus land tracts and just closed on 1,400 acres in Kissimmee for 5,000 homes and is looking in St. Johns County.
"The bottom line is we're looking for more dirt," he said. "We're looking for more debt and equity relationships that make sense. So obviously, I'm very bullish on Florida, very bullish on Orlando."
"I'm bullish for the future for all forms of commercial real estate, and that's not just lip service," NorthMarq Orlando SVP and Managing Director Melissa Marcolini-Quinn said.
She said that 28M SF of industrial came online in 2020, and some 5,500 multifamily units are being completed in Kissimmee and Winter Park.
"As housing prices go up, so will the need for multifamily, frankly because [people are] just not going to be able to afford to live in a house," she said.
The only downside she mentioned was construction costs, some of which have risen 13% just since August. Panelists agreed those would need to be baked into rents and sales prices.