BTI Partners of Fort Lauderdale isn't stopping with 4,600 acres, or an investment of $116 million, in Northeast Florida.
"We're actively looking at other deals in Jacksonville and in the Northeast Florida area," said CEO and Managing Partner Noah Breakstone.
BTI Partners plans to open a branch office in Jacksonville this year.The group gained attention in late December 2022 for two large land purchases in Clay and St. Johns counties.
The company paid $85 million on Dec. 16 for the 3,300-acre Governors Park property near Green Cove Springs in Clay County.
The Davis family, founders of the Winn-Dixie grocery store chain, and The PARC Group owned the property, which is west of U.S. 17 and intersected north and south by the First Coast Expressway.
BTI then bought 1,300 acres along County Road 210 West in St. Johns County for $31.33 million from Helow Properties. The land is part of a master-planned community tentatively called Villages at Town Center.
Breakstone will handle the residential portion of the project and rename it.
Helow Properties will continue to develop the commercial and rental residential part of the development.
This is not BTI's first venture in the area. It bought a portion of the Palencia development on U.S. 1 in St. Johns County and then sold it to Lennar.
Background
Arthur Breakstone formed BTI Partners in the late 1950s as the Breakstone Group. Management was transferred to Arthur Breakstone's son, Noah, in the 1980s.
The company, which focused on single-family homes and multifamily residential projects, has branched out into urban and commercial development and master-planned communities.
BTI Partners reports $3.6 billion in real estate transactions and describes itself as one of the leading real estate and land developers in Florida.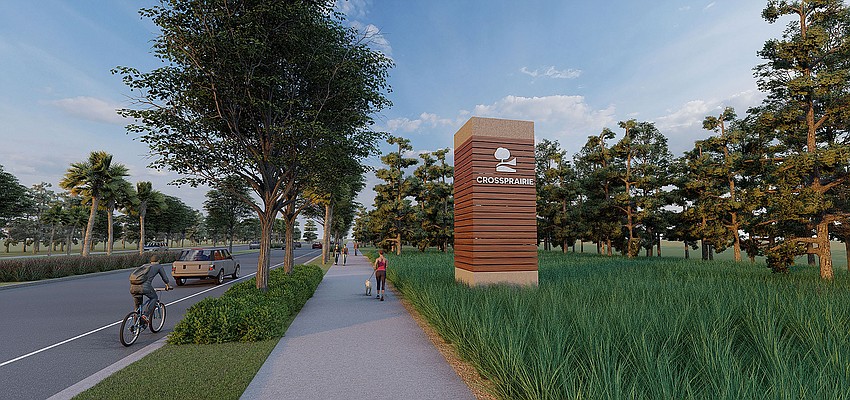 Its website lists three master-planned projects in development comprising two in Orlando and one in Tampa. There are a dozen completed projects in Orlando, Sarasota, Miami, Tampa, Naples and Palm Beach.
The BTI model is to buy large tracts of land and prepare them for construction. Purchases usually range from 500 to 5,000 acres that can accommodate from 1,000 to 15,000 residential units.
The company works with well-known builders in the region, including Lennar, Related Group, Bainbridge, Meritage Homes, M/I Homes and Eastwind Development.
BTI often works with financial company Westport Capital Partners, which invests and provides funding for BTI Partners projects. Westport is based in Stamford, Connecticut.
Northeast Florida projects
The Helow Properties site is along Greenbriar Road, also known as County Road 210 West, between Veterans and Longleaf parkways in St. Johns County.
Helow Properties announced plans for it in 2019 that called for a school, parks, civic uses, a connection to a regional preserve and a transportation network.
Home construction was expected to begin within the next couple of years. Initial plans called for 3,500 residential units, including more than 2,000 single-family homes.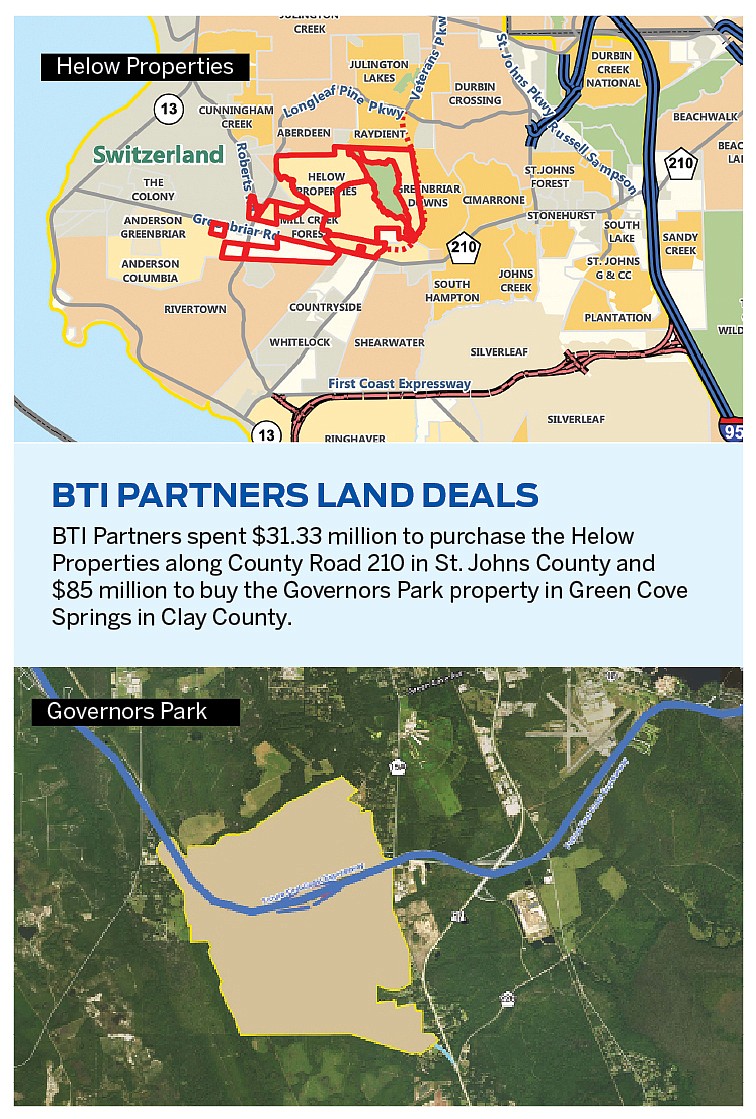 BTI said the Greenbriar deal was almost two years in the making. The group is in regular contact with real estate brokers and engineers about prospective land availability and projects.
Governors Park is larger.
Plans for that call for 4,000 single-family homes and 2,000 multifamily units.
There is expected to be 840,000 square feet of commercial and retail space, 700,000 square feet of office space, 2 million square feet of light industrial, a 400-room hotel and a golf course.
The Governors Park purchase happened in less than two months.
"Sometimes they go quick and sometimes there are some hoops to jump through. It is really just a function of where they are with underlying approvals," Breakstone said.
Governors Park will take more than a year to plan, design and permit, he said.
When preparation work begins, Breakstone expects the first houses to be completed by 2026 and the residential portion to be built-out about 2029.
A development that size could have an impact on Green Cove Springs.
Real estate broke Van Royal, a former Green Cove Springs City Council member and 35-year city resident, doesn't think that the influx of development will be detrimental to the area.
With work more than a year away, Royal said he hasn't heard much about the project from locals.
"I don't think there is a fear or worry. It hasn't made itself completely clear yet because it is truly out of sight and out of mind," Royal said.
Royal said most residents will use the First Coast Expressway rather than drive through the center of town on U.S. 17.
"They are going to jump on that interstate. I tell people when that interstate is done I will be a traffic light away from the beach. I'll be one traffic light away from the airport," Royal said.
With the construction of the master-planned community, Royal sees recreational development along waterfront land at Reynolds Park. If downtown Green Cove Springs is affected, it might be because of more activity at the redeveloped Spring Park, he said.
"I'm willing to share Spring Park," he said of the anticipated influx of new residents.
"I can remember Spring Park when no one was there. Now you have a family celebrating a birthday in a gazebo and somebody will be strumming a guitar."
Breakstone said Jacksonville's time has come. Where cars once drove past Jacksonville heading south on Interstate 95, they are now stopping to consider making it their new home.
"There is a transition towards Jacksonville becoming more of a 24-hour city. You have a professional football team, the arts and theater. It's a beautiful gem that is going to continue to grow," he said.
The situation is similar in Central Florida, but not so much in the southern part of the state, he said.
"In Miami, Dade, Broward, Fort Lauderdale and Palm Beach, you're essentially out of land. You have the ocean on one side and the Everglades on the other side. It is essentially built-out."
Jacksonville's growth sectors in logistics, medicine and technology show little signs of slowing down, Breakstone said.
"If you look at Jacksonville you have population growth, you have job growth, you have net migration and all of this creates a need for housing," he said.