BTI Partners to build new walkable community near Westshore, Gandy in South Tampa
Fort Lauderdale-based development firm BTI Partners will soon unveil Westshore
Marina District, a new walkable planned community off Westshore Boulevard south of
Gandy Boulevard in South Tampa.
The community is designed to offer an eclectic mix of residential, retail and restaurants in
a marina setting on 51 acres.
"This area [of South Tampa] has historically been industrial, so we knew we couldn't just
throw in new properties there," says BTI Executive VP of Development Beck Daniel.
"We're adding new roadways, landscaping, utilities, and other infrastructure to create this
new community and provide a sense of place."
The community will also include public park space and a recreational path that will
eventually connect with the Tampa Friendship Trail.
The 14-acre marina basin will anchor the new development.
"The community will have the largest marina basin in the Tampa area," Daniel says. "It
will help establish the development as a boating community."
The development is designed to include 1,750 residential units, 156,250 square feet of
retail area, 83,750 square feet of office space, 200 hotel rooms, 185 to 240 marina slips,
and a 1.5-mile waterfront park for public recreational enjoyment.
Luxuries such as a convenient marina are certain to appeal to many new residents in the
community, which will boast 396 rentals and special amenities on an 8.5-acre site along a
waterfront park.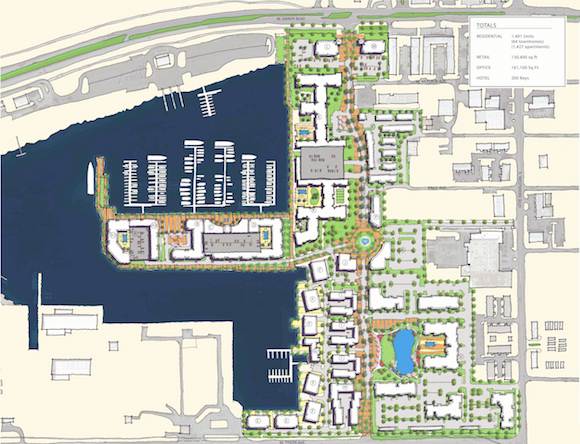 The waterfront luxury rentals will be developed by Related Group, a Miami real estate
development firm known to many in the Tampa area for its waterfront residential project
on the site of the former Tampa Tribune headquarters. Daniel says an unnamed "Top-10
national builder" is also coming onboard to construct the community. Pricing for the
residential units is yet to be determined.
Daniel expects brisk development efforts on the Westshore Marina District.
"You'll be surprised how quickly this moves," he says. "We don't have 1,750 of the same
residential units — we're mixing it up to have townhomes, condo towers, retail and
restaurants, so there will be demand for what we're building."
BTI Partners closed on the land deal in early February 2017 and expects to begin
construction on the marina community soon.
"People will be able to drive into the community and see landscaping within eight
months," Daniel says. "Construction begins on luxury rental units in early to mid 2018."
A build-out date is not specified, but Daniels says the community will be constructed in
phases and is expected to reach completion quickly.
"We're hoping the growth expands into the surrounding area," Daniel says. "We want
this to be the first thing people see as they drive into Tampa along the Gandy Bridge from
Pinellas County."
Tampa is a prime community with a fantastic waterfront, he says, but currently lacks
abundant waterfront access.
"It's surprising given how much water surrounds the Tampa area and yet there aren't as
many places to enjoy it as you might expect," he remarks. Daniel says Westshore Marina
District will help provide more opportunities for locals to live, shop and play near the
area's beautiful bay shoreline.
"We like Tampa very much," he says, referring to BTI's recent emergence in the Tampa
Bay area. "We're here to stay."