BTI Partners buys downtown Hollywood development site for $11M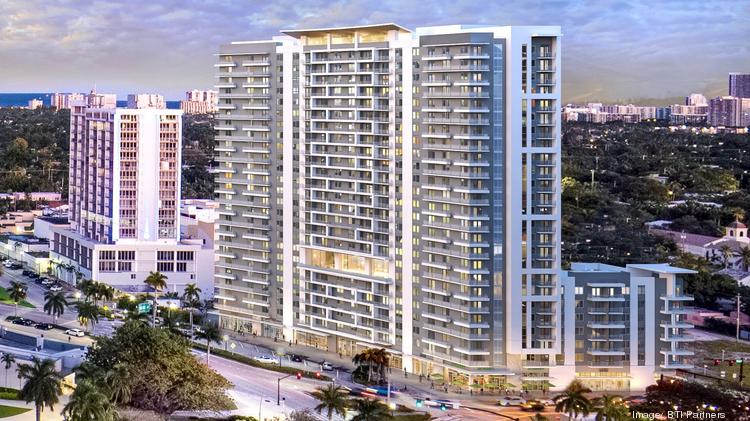 Fort Lauderdale-based BTI Partners acquired the "Bread Building" site in downtown Hollywood for $11 million as it moves forward with plans for a 25-story tower there.
Aventura-based MG3 Developer Group sold the 3.24-acre site at 1727-1745 Van Buren St., 1700-1716 Harrison St., and 1740-1760 S. Young Circle to BTI Partners, along with equity partner Bridge Investment Group of New York. Steve Kohn, Chris Moyer, Brad Capas, Zachary Kraft and Ricky Giles of Cushman & Wakefield represented the buyer in the deal. Attorney Keith Poliakoff helped the developer secure site plan approval.
The property last traded in 2013, when it was acquired out of bankruptcy liquidation.
The project is in an opportunity zone, which could create significant tax savings for the developer. It currently has the 11-story Bread Building, an abandoned structure that will be demolished this summer, BTI Partners said.
MG3 Developer Group obtained approval for a 25-story project there in 2018, but BTI Partners placed the site under contract and submitted new plans for the redevelopment.
BTI Partners plans to build a 25-story building with 362 apartments and about 16,000 square feet of commercial space. Construction should start later this year.
"Our mixed-use development will continue to improve the quality of life of the area's residents, attract people downtown to support local businesses, promote walkability and continue to reinvigorate ArtsPark," BTI Partners CEO Noah Breakstone said. "From direct access to beautiful beaches to close proximity to Broward County's largest employers, downtown Hollywood has so much to offer to current and future residents."
This is part of a surge in development around Young Circle in Hollywood. BTI Partners is also planning a two-tower project on another site along Young Circle.