Cru Cellars opens in Tampa's Westshore Marina District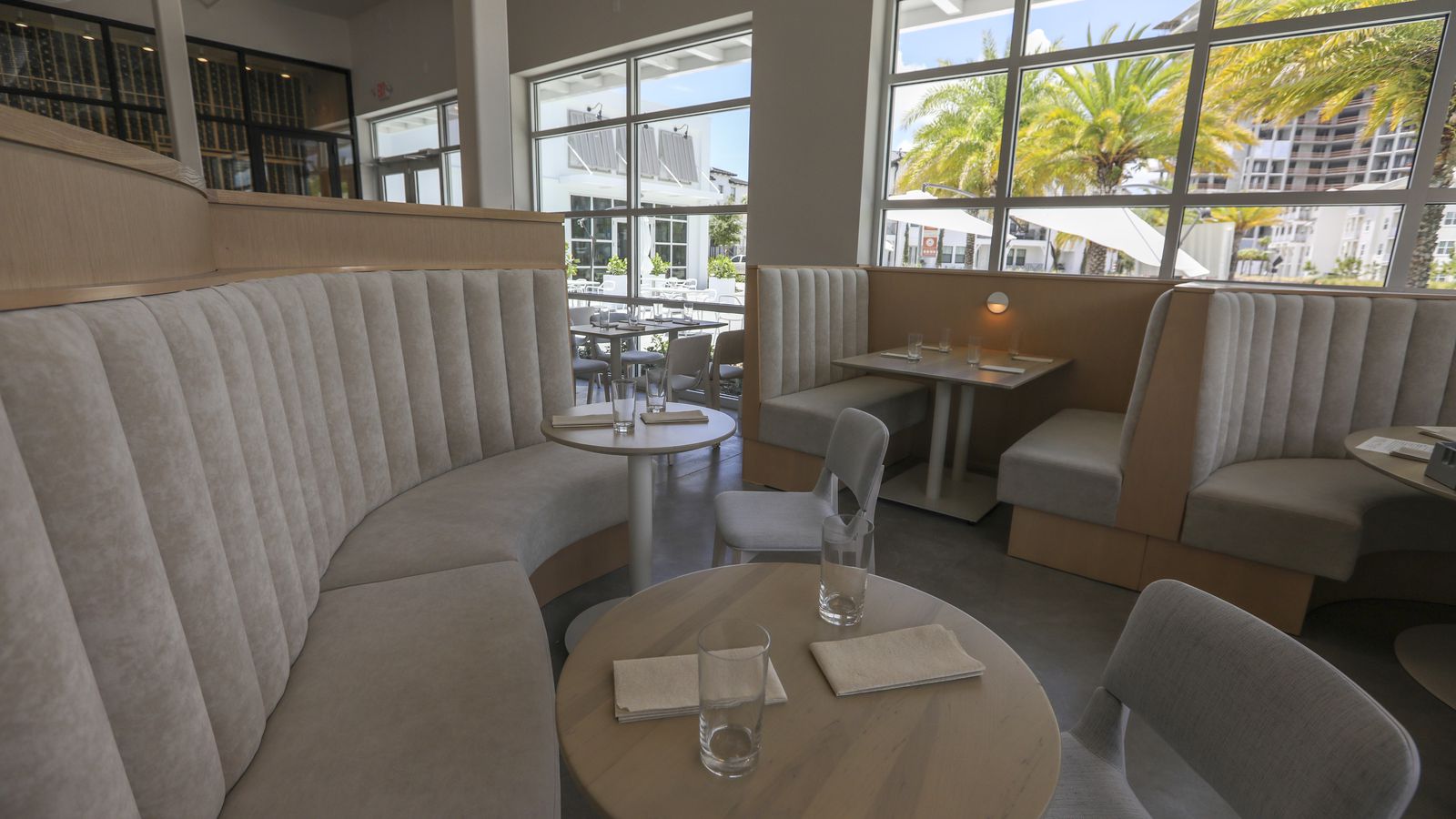 TAMPA — For the past decade, Cru Cellars in Palma Ceia has been the go-to spot for both approachable and more obscure wine finds in South Tampa.
Now, owner and wine enthusiast Jennifer Bingham has opened a new and ambitious sister concept in the Westshore Marina District, the first of several restaurant projects planned for the sprawling mixed-use development.
The new Cru Westshore Marina, at 5232 Bridge St., marks a big moment both for Bingham's team, which also operates a small offshoot inside the Heights Public Market at Armature Works, and for other retailers at the development. The project's developers, BTI Partners, have pitched the residential and commercial hub near the intersection of Gandy and West Shore boulevards in Tampa as a walkable neighborhood that will attract both residents as well as visitors to the area. Cru's opening last week appears poised to draw the biggest crowd yet.
For Bingham, it's a big step in what is shaping up to be a busy year. Along with planning the Westshore Marina launch, the local wine pro has been busy hatching designs for Bouzy, a new Champagne and cocktail bar slated to open this fall in Hyde Park Village.
"I'm slightly crazy to be growing right now," Bingham said. "But Tampa is really growing and I feel really lucky to have 11 years of experience behind me for this."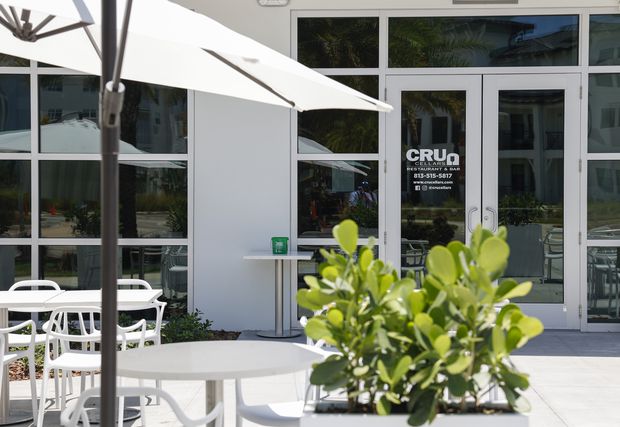 Cru Westshore Marina in Tampa features an outdoor patio with seating for roughly 50 people and a dining room that can seat another 65. [ CHRIS URSO | Times ]
Unlike the Palma Ceia flagship, which is both a wine bar and retail shop, Bingham said her newest spot is more of a "wine restaurant," with an everyday vibe where diners can stop in for an afternoon snack and a glass of wine as well as linger over a more upscale dinner later in the evening.
The restaurant is open for coffee and pastries in the morning and will eventually serve lunch, brunch and dinner. For now, it's just open for breakfast and dinner. And though the focus has shifted from its predecessor to include more food, Bingham said wine is still very much at the heart of the operation, evidenced by the restaurant's massive wine inventory, which includes roughly 2,000 bottles.
The light and airy 2,400-square-foot space is outfitted in mostly white decor, including plush banquettes and cozy booths, with seating for roughly 65 people. A long bar anchoring the space is decorated with bright blue tiles, a nod to the nearby marina. Outside, a large patio features seating for another 45 to 50 people.
In the back of the restaurant, a floor-to-ceiling wine cellar overlooks the space. Bingham said keeping the list approachable was important, and while there are several high-end selections, more than half the 260-bottle list features choices under $100.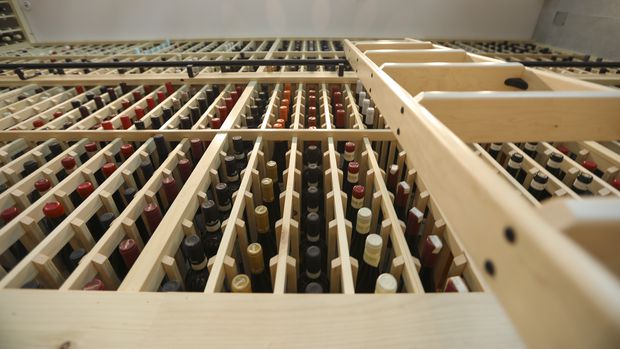 The wine cellar at Cru Westshore Marina in Tampa features an inventory of roughly 2,000 bottles. [ CHRIS URSO | Times ]
Helming the kitchen is executive chef Zack Sylvester, who was hired at the Palma Ceia location shortly before the pandemic began. The menu at the new restaurant is similar to the one at the flagship location — yes, there are truffle fries and cheese and charcuterie farmer's platters — but the list also features a larger selection of "marina-inspired" dishes (fish and seafood) as well as a collection of pizzas.
Appetizers and salads on the opening menu include a dish of littleneck clams served in a hickory fumet with roasted fennel, shallots and Pernod cream with crostini ($19); a gulf yellowfin tartare with chili oil, ginger soy reduction, pickled jalapenos, avocado and wonton chips ($21); and a chard and kale Caesar salad paired with a Scotch egg ($12).
Pizzas include a classic Margherita, topped with tarragon, heirloom tomatoes, burrata and basil ($15); and a pepperoni, capocollo and chorizo pie topped with Beecher's Dulcet cheese, mozzarella and Grana Padano ($17).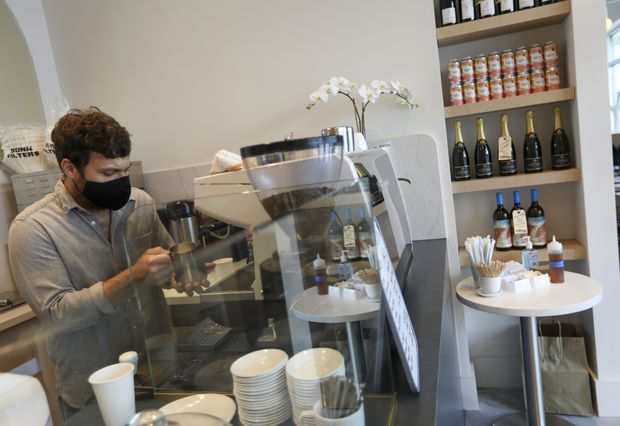 Barista Chris Assed, 35, prepares a latte at Cru Westshore Marina in Tampa. [ CHRIS URSO | Times ]
Larger, entree-style dishes include an Australian Angus filet mignon served with maque choux, smoked pork belly and bearnaise ($38); a fenugreek-crusted Faroe Island salmon with hickory clam fumet, charred apples, fennel, frisee and Pernod cream ($27); and a steak sandwich topped with bearnaise, Gruyere, tomatoes and butter lettuce on a Sullivan Street Bakery roll served with fries ($18).
To help run the wine program, Bingham tapped sommeliers Kristen Lee and Julian Mayor, who helped curate the list and on busier nights will both be working the dining room to assist customers with their selections. Building on the Palma Ceia shop's reputation, the list at the new restaurant will feature a selection of both natural and classic small-production wines from all over the world, Bingham said.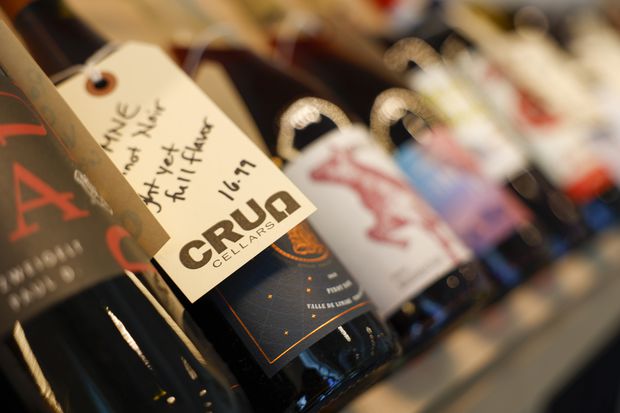 The bottle list at Cru Westshore Marina in Tampa features 260 wines, half of which are under $100. [ CHRIS URSO | Times ]
Bingham acknowledged that opening an upscale, wine-focused restaurant might sound a little ambitious following a rough year for restaurants, but she's optimistic that Tampa Bay is ready for more.
"As restaurants reopen around the country, many are hesitant to bring back their large wine lists and floor sommeliers," she said in an email. "Cru is enthusiastic."
Cru Westshore Marina, 5232 Bridge St., Tampa, is currently open Tuesday through Sunday starting at 7 a.m. for coffee, pastries and retail. Dinner is served from 4 p.m. to close. 813-515-5817. crucellars.com/westshore-marina1.