Exclusive: Boozy ice cream shop coming to Westshore Marina District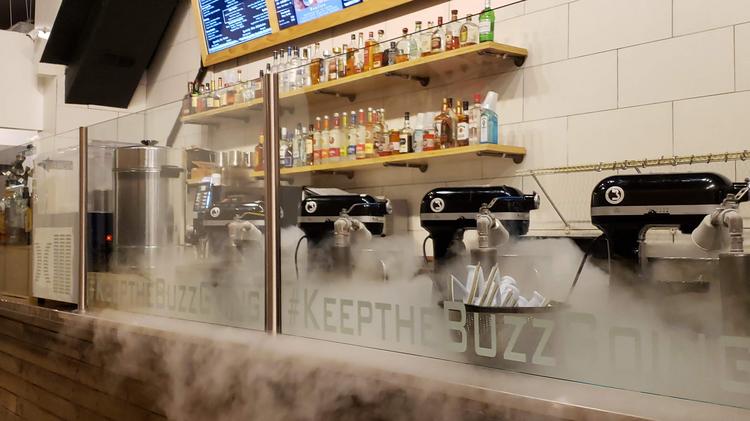 A Cincinnati ice cream shop that serves up alcohol-infused scoops and adult milkshakes will open its first Florida location in Tampa's Westshore Marina District.
Buzzed Bull — which also sells non-alcoholic frozen desserts — has leased 1,200 square feet in Marina Landings, the district's retail village. It's slated to open later this year. BTI Partners, the master developer of the district, announced the lease Monday.
Dana Dowsett of Southeast Retail Group and Sherry Naquin Sanchez of Resolut RE represented Buzzed Bull in the lease transaction.
Westshore Marina District includes townhouses, apartments and luxury condominiums on 52 acres on the Westshore waterfront just south of the intersection with Gandy Boulevard.
The creamery joins Cru Cellars, which recently opened a location in the district, as well as Duckweed Urban Market, boutique Sand Surf Co. and a California-based juice and coffee bar chain.
"Buzzed Bull Creamery could not be a more perfect fit for our growing community in South Tampa," Britney Mroczkowski, vice president of retail development with BTI Partners, said in a statement. "Westshore Marina District continues to attract new-to-market tenants that provide our residents and the surrounding community a unique experience, currently unmatched in the South Tampa area. We are dedicated to curating tenants that further enhance our vibrant community."
It is the latest in a spate of boutique ice creameries to open in the Tampa Bay area. St. Petersburg-founded Bright Ice is in expansion mode; Brooklyn's Oddfellow Ice Cream Co. recently announced a new location in Hyde Park Village. Jeni's Ice Creams, based in Columbus, Ohio, opened in The Heights earlier this year.
"As a South Tampa native, I am beyond excited to bring this fun and unique concept home to Tampa," Paula Green, co-owner of the new Buzzed Bull store, said in a statement. "The minute we experienced Buzzed Bull for ourselves, we just knew it was time to open a store in Tampa. We couldn't think of a better location than to bring it to Marina Landings in the heart of Westshore Marina District. Our store is going to be fun for the entire community, and we cannot wait to see everyone enjoy it as much as we have."