First phase of Osceola's Edgewater community to launch with 1,125 homes
BTI Partners expects to break ground this fall on the sitework and road construction for the first phase of its 1,400-acre Edgewater community in Osceola County.
BTI paid $40 million last August for the mixed-use community east of Lake Tohopekaliga, and COO Kevin Mays said the firm likely hasn't made it's last purchase in the East Lake Toho corridor. "We're looking at other property in this general corridor. So there's still land available, and we think it's going to be a great spot for a time to come."
On Wednesday, the county's Development Review Committee is expected to approve the Preliminary Subdivision Plan for Phase 1, which begins at the current Kissimmee Park Road interchange at Florida's Turnpike. The total project is divided into six phases with an anticipated buildout date of 2032.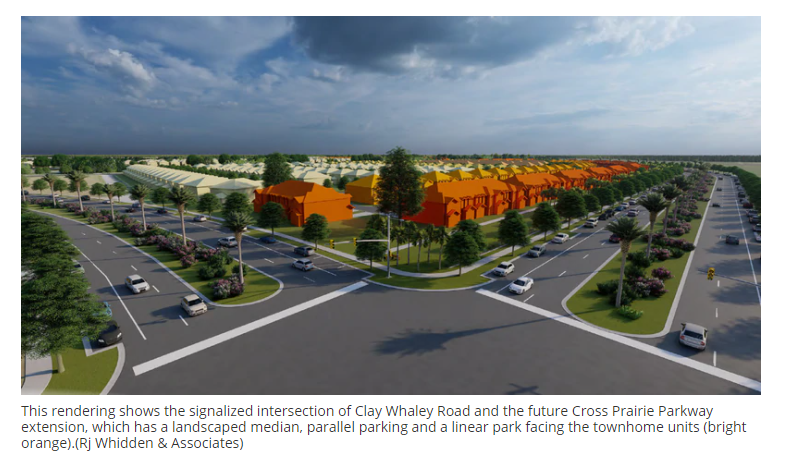 Kevin Kramer, BTI Director of Land Development, told GrowthSpotter the master developer will begin construction with its portion of the Cross Prairie Parkway, a major north-south corridor that eventually will connect directly to U.S. 192. New home construction on the first phase would start a year later, in early fall 2021.
The PSP creates 1,125 homesites on nearly 260 acres in Phase 1. BTI has designed its portion of the Cross Prairie Parkway with a linear park along both sides of the divided 4-lane roadway. It's one of the main attractions of the neighborhood and connects to the designated site for a future amenity center.
Kramer said he anticipates bringing in three homebuilders initially and is in discussions with national, regional and local builders.
"There's been a lot of interest in this site, for obvious reasons," Kramer said. "So we think that due to the breadth of the development there's room for many of them."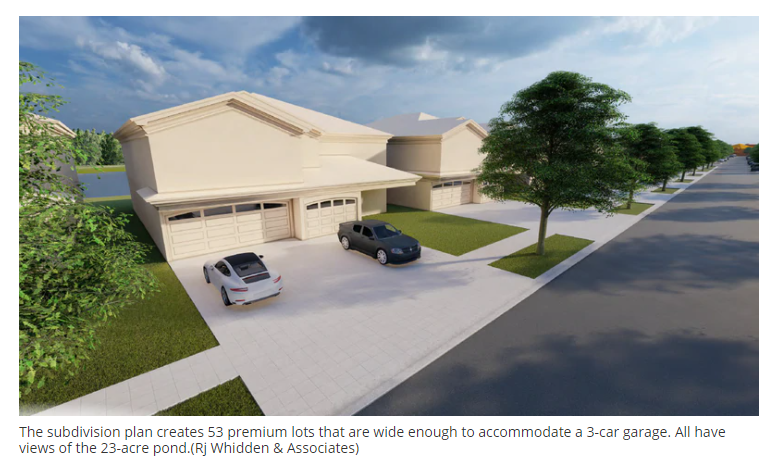 The Preliminary Subdivision Plan calls for a variety of six different housing product types: townhomes (front and rear-loaded), duplexes, and single family detached homes on three lot sizes. About 65 percent of the total homesites in Phase 1 are for detached homes. The 126 rear-loaded duplexes would be on 32-foot lots.
"We had a specific builder ask for that lot size," Kramer said. "The units themselves are really the same size as a townhome, so really what it is is two end units stuck together. End townhome units have a premium because there's no neighbor on one side, windows on one side."
The 40-foot detached home lots would also be rear alley loaded, while the 50-foot and 60-foot lots would be front loaded. All of the widest lots have back yard views of the 23-acre pond, while some of the 50-foot lots have offer premium conservation views.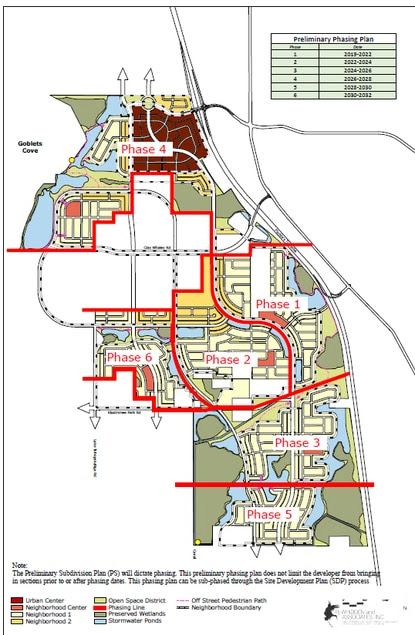 BTI Partners updated its Concept Plan and phasing in March to accommodate the relocated Turnpike interchange at New Nolte Road. The Urban Center was shifted north to be closer to the interchange.(Rj Whidden & Associates)
Kissimmee-based Rj Whidden and Associates led BTI through its initial conceptual planning for Edgewater and created the Phase 1 PSP. Rj Whidden Vice President John Adams told GrowthSpotter the project could be broken into subphases during the Site Development Plan submittal stage. The primary goal with the subdivision plan was to meet legal requirements of Osceola County's Mixed-Use development code.
"The code requires a variety of product, and the decisions they made were based on speaking with builders," Adams said.
The Concept Plan entitles the property for more than 5,000 residential units and 2 million square feet of commercial uses, including a designated Urban Center right across the parkway from this phase. Mays said BTI has worked closely with Osceola County and the Florida Department of Transportation to redesign the project so it's compatible with the existing Kissimmee Park Road interchange and the future 4-way interchange a half-mile north at New Nolte Road. That interchange is scheduled for construction between 2022 and 2024.
"We'll be developing the residential component for the next 5-7 years," Mays said. "Once the new interchange comes in, that really opens up the opportunity for the urban center. That timing is perfect because there's already a ton of rooftops in this whole area, and we'll be pouring another 5,000 in."
The developer is also working with the School District of Osceola County to secure additional land in Phase 2 for a K-8 school and a 50-acre site for a future high school. The district is supporting the Phase 1 subdivision plan so long as BTI Partners dedicates both school sites before the county's issues a final development order.