Here are the major Tampa development projects that did — and didn't — open in time for Super Bowl LV

Here are the major Tampa development projects that did — and didn't — open in time for Super Bowl LV
Feb 7, 2021, 8:27am EST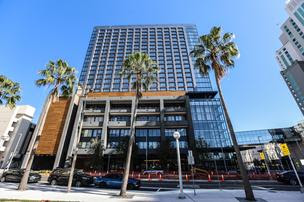 NOLA LALEYE
JW Marriott, the first new-construction building to open in Water Street Tampa.
For Tampa's biggest new developments, Super Bowl LV served as a looming deadline, with builders and developers racing to finish those projects in the weeks before kickoff.
The Super Bowl was a big reason that Mayor Jane Castor's administration worked with developers and general contractors early on in the pandemic to establish safety guidelines and keep projects humming along.
"We don't know exactly what it will look like, but we see it as opportunity to restore our economic vitality," Carole Post, Castor's economic development chief, said of the Super Bowl in May 2020. "And a lot of that is tied to construction being completed on time in a safe and prudent way."
Here's a look at what's open in time for the big game, which will be played Sunday at Raymond James Stadium:
Midtown Tampa
In Midtown Tampa, the dual-flag Element and Aloft hotel is open, along with rooftop bar and lounge Sal Y Mar. Midtown, under construction on 22 acres at the intersection of North Dale Mabry Highway and Interstate 275, is located closest to the stadium of any of the city's major new mixed-use districts.
"We're so excited to have the Tampa Bay [Buccaneers] in the Super Bowl just a few miles from Midtown Tampa," Kathy Hackshaw, the development's general manager, said in a statement. "Element and Aloft are at 100 percent capacity welcoming media personnel and fans from around the country. Sal y Mar, the rooftop bar and restaurant are also open."
Beyond the hotel and its rooftop bar, Midtown remains very much an active construction zone. It will include apartments and office and retail space, which developer Bromley Cos. says is 85 percent leased, including to some of the biggest names in Tampa Bay hospitality, from chef Chris Ponte to The Hall.
Water Street Tampa
The JW Marriott, the first building to begin vertical construction in Water Street, is a pivotal piece of the city's ability to host Super Bowl LV. The 26-story convention hotel was named the official host hotel of Super Bowl LV before it even broke ground in 2018, and it officially opened just before Christmas, six weeks in advance of the big game.
Sparkman Wharf lies just outside of the official boundary of the Water Street district, though it serves as the district's southern anchor and is controlled by the same developer, Strategic Property Partners. Sparkman Wharf has been mostly done with major construction since early 2020 and features a dining garden with restaurants housed in shipping containers and a craft biergarten. One of the restaurants in the inline retail space, JoToro, opened in November.
Within the main Water Street district, apartment tower Heron looks nearly finished, and it is — the first residents will be moving in within weeks. Office tower 1001 Water Street and hotel-condo The Edition Tampa are taking shape, and the images of multiple high-rises under construction in the downtown core help boost the city's image on national broadcasts.
The Heights
The Heights, the mixed-use district anchored by Armature Works on the north end of downtown Tampa, is at a good phase of development for Super Bowl LV. It boasts Heights Public Market, a food hall within Armature Works, and multiple full-service restaurants between the street-level retail space within The Pearl and Armature Works. Sprouts Farmers Market is under construction on the ground floor of a parking garage within the district.
The development is also sure to be a talking point among commercial real estate brokers, economic developers and other executives this weekend: The office building within the district, Heights Union, recently landed a huge lease with pharmaceutical giant Pfizer Inc.
A 105,000-square-foot office lease is gigantic by Tampa standards, and it also brings Heights Union to almost full capacity — at a time when executives and real estate observers are questioning the future of office space.
Westshore Marina District
Construction at Westshore Marina District was less tied to Super Bowl LV than work at the city's other major districts; it's farther removed from both downtown Tampa and the stadium area. Construction in the district stopped for several months early on in the pandemic. But the Super Bowl presents an excellent marketing opportunity for BTI Partners, the Fort Lauderdale-based master developer of the district and developer of Marina Pointe, a three-tower luxury condo development.
The district's retail space is taking shape, and the first tower in Marina Pointe is under construction. BTI Partners recently secured a $92 million construction loan for that first condo tower.
Riverwalk Place
It's been obvious for some time that Riverwalk Place, the mixed-use tower proposed on the vacant site at Ashley Drive and Brorein Street in downtown Tampa, would not begin construction before Super Bowl LV, let alone be finished for it. The project has completely changed hands and concepts since its initial proposal in 2015; original developer Feldman Equities exited the deal in March 2020.
But the tower was in the works long before Super Bowl LV was moved to Tampa in 2017 thanks to stadium construction delays in Los Angeles. When Tampa secured the 2021 Super Bowl, it became an official deadline for the original developers behind the tower. Had the initial vision — 52 stories of office space and ultra-luxe condos towering over the downtown waterfront — come to fruition, it would have been a stunning focal point for Super Bowl broadcasts.