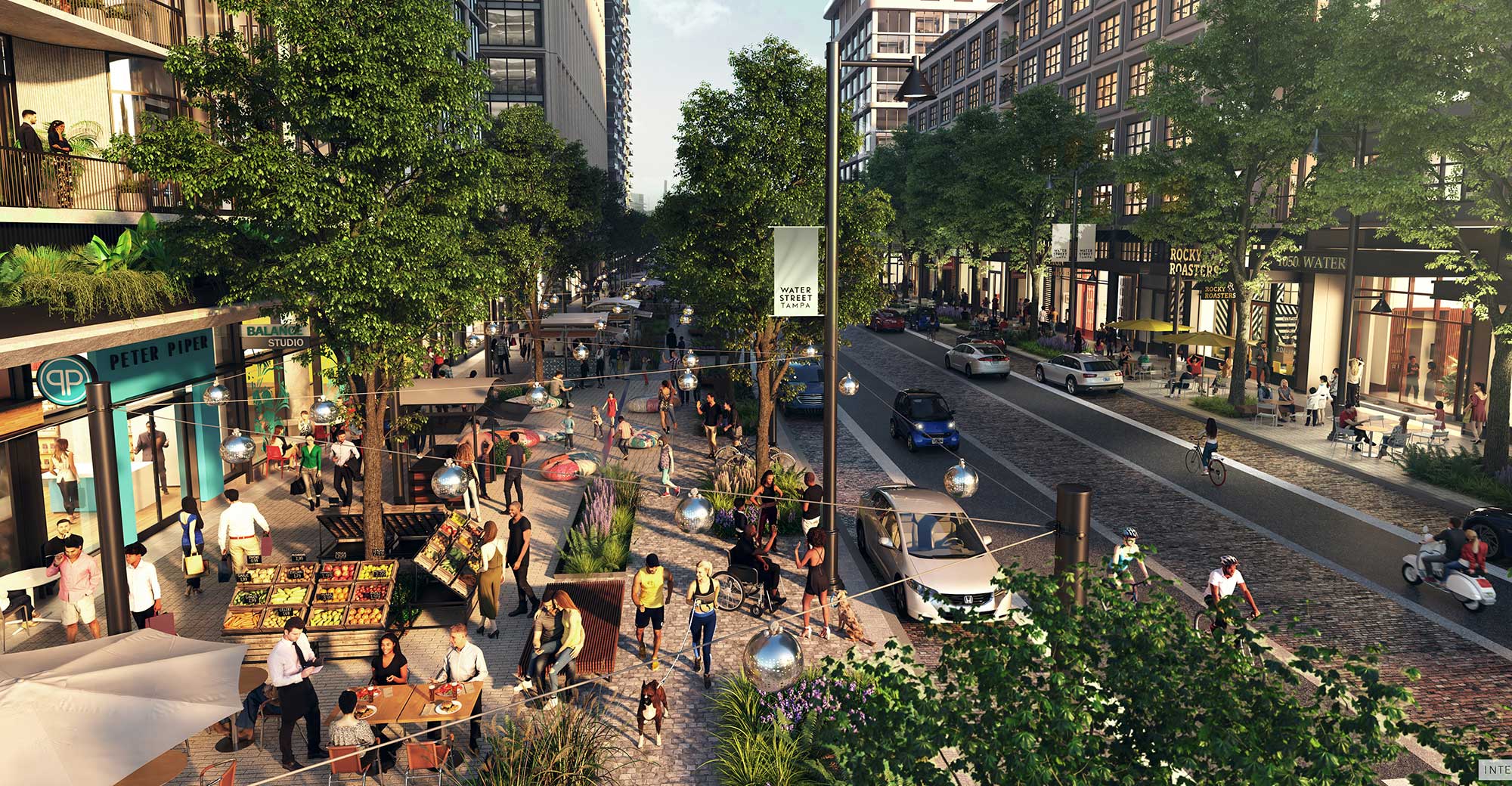 Tampa's dining scene is on fire, and 2022 looks like it'll be adding plenty of fuel. While fast-casual options are trending, restaurateurs also are anticipating pent-up demand for sit-down dining as the industry recovers from the pandemic. Here's a closer look at what two of Tampa's biggest redevelopment areas plan to bring to the table in 2022, from international brands to celebrity chefs and one-of-a-kind new concepts.
Water Street Tampa
There's a lot of buzz around what's coming to Water Street Tampa. At 56 acres, the $3.5-billion downtown-waterfront project by Strategic Property Partners (SPP) is one of the largest mixed-use developments in the nation. With major players at the helm — investors Jeff Vinik (Tampa Bay Lightning's owner) and Bill Gates' Cascade Investment — it's garnering widespread attention and high hopes. There are plans for 1 million square feet of retail, and over a dozen retail vendors have already been announced.
In November, SPP shared the names of three food and beverage venues coming to the ground floor of Cora and Heron apartment towers. Opening in Cora in spring 2022 are Small Giant Bar & Restaurant, a new neighborhood bar and grill, and Wine on Water, a modern wine and liquor shop. Small Giant will serve craft beers and cocktails and introduce Ohio-style pizza to Tampa. Next door, Wine on Water will offer over 500 selections of wine and liquor, with a focus on small-production wines, an outdoor garden and educational classes and tastings.
"We see the vision that the Water Street Tampa team has of the burgeoning neighborhood, and we're excited to be part of the fabric of life for those that work and live here," says owner Jennifer Bingham, who also founded Tampa-based Cru Hospitality group (Cru Cellars) with Torrey Bingham.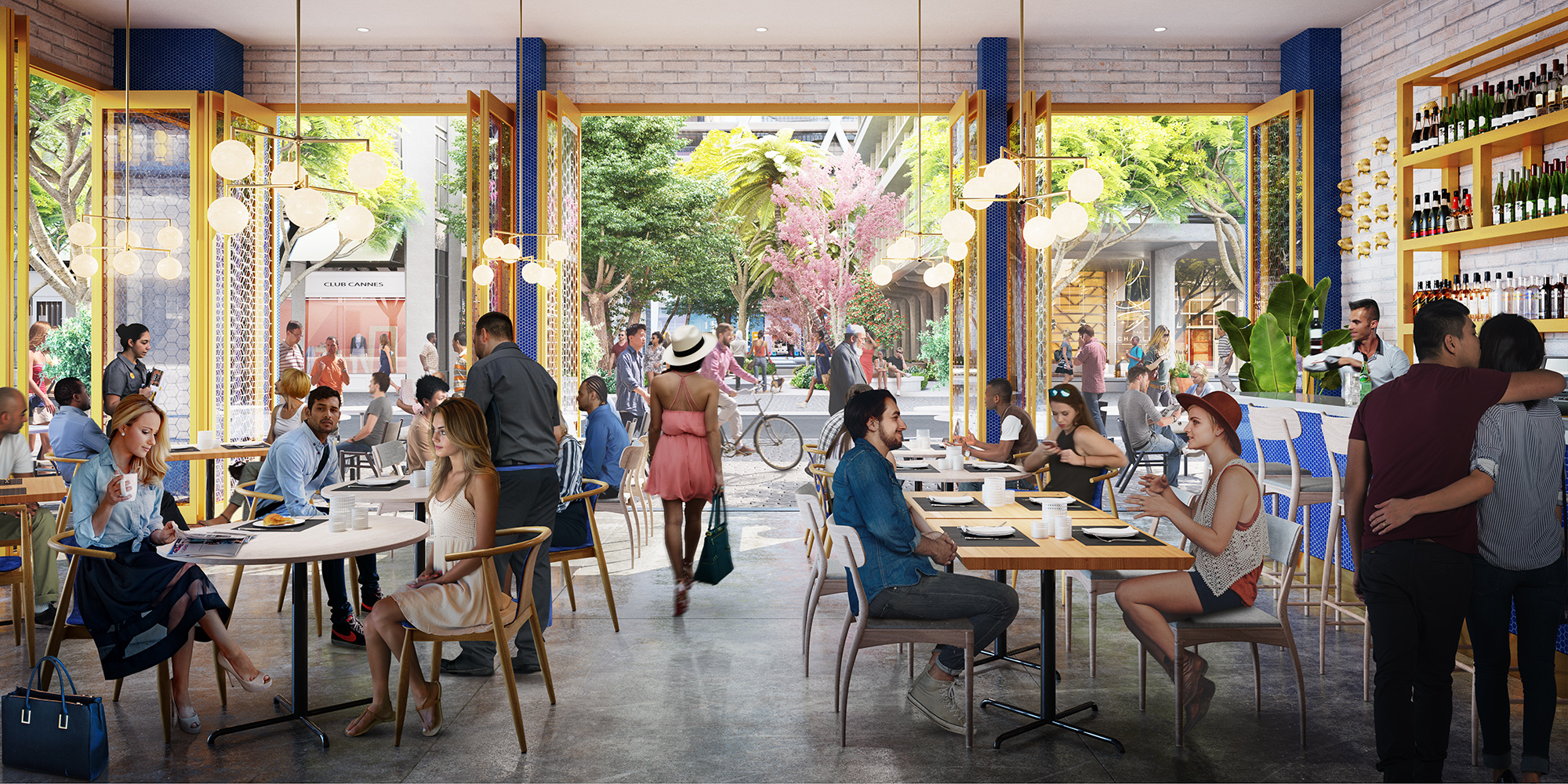 Renderings of Water Street Tampa's dining scene. Courtesy of Strategic Property Partners
At Heron, The Pearl will make its Tampa debut from Cameron Mitchell Restaurants, the company behind upscale seafood and steakhouse Ocean Prime. The restaurant, tavern and oyster room will serve shareable plates, cocktails and more in an eclectic, stylish atmosphere.
SPP also just announced that Hampton Chocolate Factory's flagship store will join the trendy outdoor food hall Sparkman Wharf, Water Street Tampa's first retail project that opened in 2018. The artisan dessert shop founded in The Hamptons will serve high-end indulgences by Tampa's top local pastry chefs, as well as frozen desserts and shakes.
"Water Street Tampa will become a new culinary epicenter of Tampa, with everything from locally owned cafes to high-end restaurants by Michelin-starred chefs to lively shipping containers featuring innovative fare," says Lee Schaffler, Chief Portfolio Officer for SPP. We're establishing a destination dining scene and are thrilled to bring so many diverse options to the community."
Tampa's first five-star hotel, The Tampa EDITION, is gearing up to open in early 2022 and aims to become a culinary focal point for the city. With it will come seven highly anticipated food and beverage outlets overseen by acclaimed restaurateur and chef John Fraser.
"We'll be part of every day from early breakfast all the way to the end of the night on both food and cocktails, and we hope to have a signature restaurant that competes with the best of what's there now," says Fraser, a longtime collaborator with EDITION, including the Times Square and West Hollywood locations.
Known for redefining the role of vegetables in American cuisine, Fraser plans to bring that flare to Tampa. The Los Angeles native also draws inspiration from California's neighborhood bars and comfort food. He envisions creating memorable dining experiences in The Tampa EDITION, "elevating it to an art form" with elements of surprise and small touches like tableside food and drink preparations.
"I threw my hat in the ring almost immediately for Tampa," Fraser says. "Water Street Tampa is a world class development. You have world-class architects, a world-class developer, and as I see the tenant roster build up, world-class restaurants and retail."
To that tune, Water Street Tampa already has attracted one international restaurant brand and it wouldn't be surprising if there were more to come. Wagamama will make its Florida debut in early 2022, when it brings its Asian-inspired cuisine to the base of 1050 Water St., a forthcoming residential development.
"Wagamama appreciates attention to detail and is a first-to-market retailer with a lively dining experience, which is exactly what we're pursuing at Water Street Tampa," SPP's Schaffler says.
With over 200 locations, Wagamama puts a modern take on classic Asian-fusion food. Its menu features noodle and rice dishes, shareable sides, craft cocktails, freshly pressed juices, hot drinks, wine, sake and Asian beers.
"With our fresh, flavorful cuisine and engaged, social atmosphere, Wagamama is ideally suited for the Tampa market," says Richard Flaherty, co-CEO of Wagamama USA. "We knew Water Street Tampa, with its focus on community and vibrant street-level programming, was the perfect fit for our high-quality, high-energy dining experience."
Wagamama will join a variety of restaurants already open throughout the neighborhood, including Naked Farmer, 3 Corners, Noble Rice, BurgerFi, The Battery, Fit Bowl Co., Superfood Bar, Murph's BBQ, Jotoro, Edison's Swigamajig, Gallito, Flock and Stock, and LightHaus Beer Garden.
Asian-inspired international restaurant chain Wagamama, pictured in New York City, plans to open in Water Street Tampa. Courtesy of Wagama.
West Shore Boulevard
West Shore Boulevard also is experiencing a restaurant renaissance on both ends. At its north, Westshore City Center, a 300,00-square-foot 1970s office property, is being renovated by Ally Capital. Breakfast chain First Watch opened in October.
But the showstopper will be Union New American, a unique, two-story, upscale modern American restaurant, private event space and nightclub with plans to open by spring 2022. The man heading up the concept has a strong track record of success in Tampa. Jeff Gigante co-founded Ciccio Restaurant Group (CRG), opening over 20 restaurants in 25 years. As CRG trended fast casual, Gigante broke off to focus on "polished, upscale casual dining." His first foray was Forbici Modern Italian in 2019 in Hyde Park Village with friend and business partner Joe Guggino. Real estate executive Andrew Wright rounded out the group to create Next Level Brands, and their first project together is Union New American.
"Something like this doesn't really exist yet in Tampa," Gigante says. "The sky's the limit here. This is going to be a concept for the ages, a staple of the community."
Both floors of the 11,000-square-foot building will offer indoor and outdoor seating, but upstairs is where it's taken to the next level with a scenic sunset view, as well as late-night music, creating an exclusive nightlife venue.
"You're going to feel transported to Los Angeles, Las Vegas, Chicago — and you'll hear some of the greatest DJs on the planet," Gigante says.
The contemporary American menu was inspired by some of Gigante's favorite chains growing up, such as Houston's. A central element will be a fire hearth burning American white oak, where proteins and vegetables will be cooked. Expect premium steak, seafood, vegetarian and vegan options from Chef Adam Polisei, who recently migrated over to Next Level Brands from Tampa's Ocean Prime, as did general manager Kal Harris. The "theatrical setup" also includes an unconventional kitchen window and large table pass where diners can see chefs assembling orders.
As for the decor, Gigante describes it as "very chic." After his partner Guggino dined at the Marcus Samuelson restaurant in Four Seasons Hotel Montreal, they tracked down and hired the design firm Atelier Zébulon Perron to design Union New American. They plan to commission local artist Jason Hulfish for some nontraditional pieces, promising "a lot of beautiful, shareable photo ops." (Read more about Hulfish on Page 28.)
About 5 miles south of the future site of Union New American lives Westshore Marina District. The former industrial boat yard in South Tampa was transformed into a 52-acre mixed-use bayfront community at the intersection of Gandy and West Shore boulevards. Ten years in the making, the $700-million project is nearly complete.
At the heart of the district, Marina Landings Town Center encompasses almost 20,000 square feet of service-oriented retail, and its first restaurant, Tampa-based Cru Cellars, opened in May. Cincinnati's Buzzed Bull Creamery and national franchises DRNK coffee + tea and QWENCH juice bar were planned to open this fall.
Arguably the town center's most exciting edition, celebrity chef Fabio Viviani's national franchise Chuck Lager America's Tavern is scheduled to open in early 2022. Diners can expect New American cuisine in a casual atmosphere, featuring gourmet burgers, flatbreads, pastas, handhelds and entrees, as well as cocktails, wine and beer, and an extensive bourbon and whiskey selection.
"The restaurant is a perfect anchor for our roster of tenants and helps round out our restaurant offerings," says Britney Mroczkowski, vice president of retail development with developer BTI Partners.
Viviani, named Fan Favorite on Bravo's Top Chef, relocated to the U.S. from Italy in 2005 and has opened over 30 restaurants across the nation. Chuck Lager is an adventurous traveler and foodie whom Viviani met in his grandmother's kitchen. They are known to drop into their restaurants from time to time, so keep an eye out.
Many new culinary adventures await Tampa's diners. Perhaps the perfect New Year's resolution is to explore the city's latest restaurant additions in 2022.