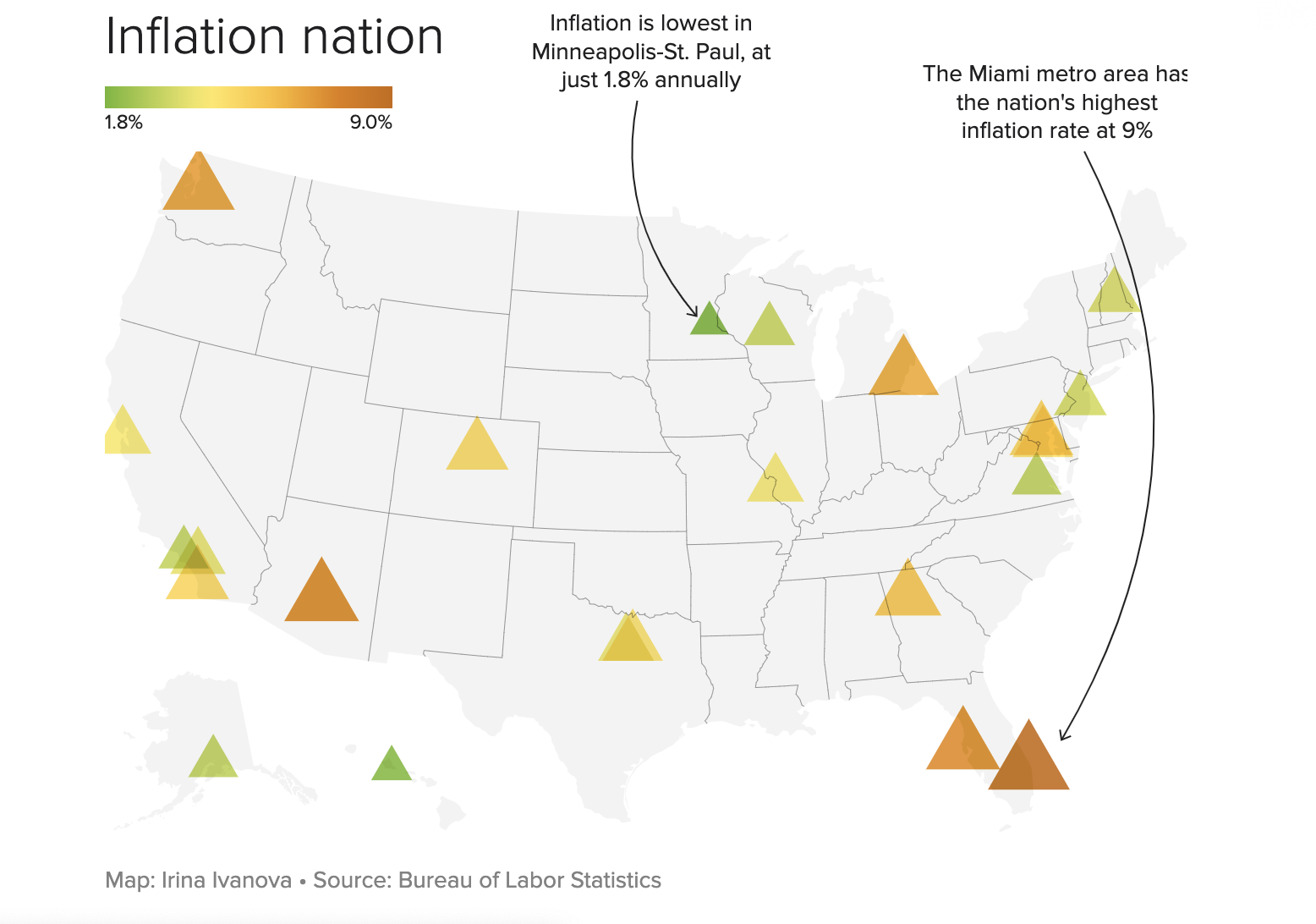 Inflation is rapidly cooling across the U.S. — unless you live in Florida.
Residents in the Miami-Fort Lauderdale-West Palm Beach area saw prices shoot up 9% in May compared with a year earlier. By comparison, nationwide inflation for the same period was less than half that rate, with prices rising 4% in May compared with a year earlier. People living in the Tampa-St. Petersburg-Clearwater area have it slightly easier, with inflation rising at a 7.3% annual pace, but that's still much higher than the U.S. as a whole.
The reason for Florida's painfully high prices boils down to one essential category of spending: housing. Almost half a million people moved to the state from July 2021 to July 2022, more than double the number in the prior year, according to the Tampa Bay Economic Development Council.
But builders weren't keeping up with that influx, pushing Tampa housing prices up 12% in May on an annual basis and almost 17% in Miami, according to data from the Bureau of Labor Statistics.
Housing remains a flashpoint across the U.S., to be sure, but Floridians are suffering from extreme price pressures beyond the national norm, where housing prices rose 8% in May — still high, but considerably lower than the wallop felt by many in Florida's biggest cities.
"Home prices in Florida increased 55% from the start of the pandemic, well above the national average of 41%," Noah Breakstone, CEO of real estate company BTI Partners, told CBS MoneyWatch. "As an influx of residents moved to the state following the pandemic in search of better weather and lower taxes, residential real estate has grown more expensive."
That's compounded by a limited housing supply as well as higher mortgage costs and property insurance, he added.
Prices expected to fall
On Wednesday, economists and pundits will be watching for signs that inflation is easing across the nation when the Consumer Price Index for June is released at 8:30 a.m. Eastern time. The CPI, a basket of goods and services typically bought by consumers, is expected to decline to 3.1%, from 4% in the prior month, according to economists polled by FactSet.
But that's still higher than the Fed's annualized 2% target for inflation, while pockets of higher prices remain across the nation, as well as for certain products and services. The Federal Reserve indicated earlier this month that it is likely to continue hiking interest rates as part of its ongoing effort lower prices, which could put more pressure on housing costs if mortgage rates continue to rise.
Even so, there are signs that inflation is rapidly cooling. For one, some cities are already at 2% or lower, including the Minneapolis metropolitan area, where inflation fell to 1.8% in May, and Honolulu, at 2%, according to Labor Department figures.
Other data suggest additional relief on the horizon. After soaring during the pandemic, used car prices are dropping sharply, according to Goldman Sachs economists said in a July 2 research note. Housing may also soon provide a breather for renters, with the investment bank noting that "at least half of the post-pandemic premium on new rental units has unwound — which will reduce upward pressure on lease renewals."
Still, Florida's housing problems may not be solved anytime soon, Breakstone noted.
"Unfortunately, Florida's housing supply has not been able to keep pace with demand," he said. "One of the key problems is a lack of developable land causing a slowdown in the development of new homes, keeping the residential inventory low."