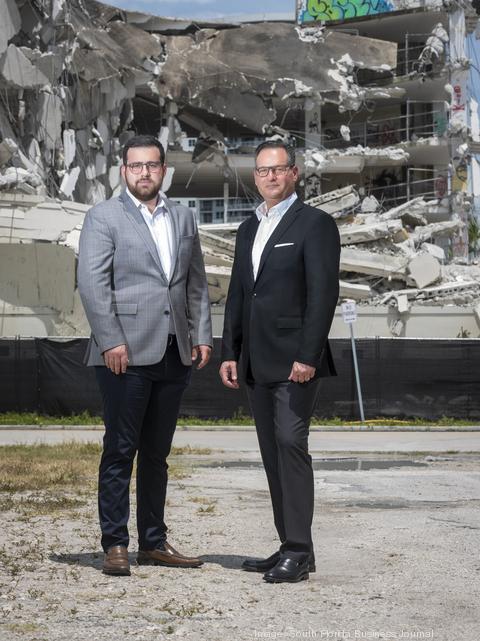 Overlooked by developers for decades, downtown Hollywood is finally attracting more projects, leading to more residents and businesses in the city.
While Fort Lauderdale to the north and Aventura to the south boomed with new towers, downtown Hollywood and its historic Young Circle didn't see much major development. While that kept rents more affordable than in other cities, the city's tax base didn't benefit from the greater property values, and local businesses missed out on new customers.
But that's quickly changing. And Young Circle is at the center of it all.
After completing the Circ Residences and the Circ Hotel in 2018, developer Chip R. Abele Jr. is building the Block 40 apartments and retail project. BTI Partners is moving forward with two major developments.
Mayor Joshua Levy said the planning started 20 years ago with a master plan by Miami architect Bernard Zyscovich, followed by a Regional Activity Center (RAC) passed in 2016 that allows for high-density, mixed-use development on the eastern side of the city.
"What we are seeing on Young Circle today is significant progress in the master plan vision that looks to create a neighborhood around the circle with high-rise towers," Levy said. "But without the developers who have the wherewithal to construct these buildings, the plans are just drawings on paper."
Jorge Camejo, director of the Hollywood Community Redevelopment Agency (CRA), said the RAC allocated 16,000 units of density in the area. The CRA has incentive programs for development there, as it awarded property tax rebates to both the Circ and Block 40. Camejo said a project that follows the master plan and contributes to the economic development of downtown could qualify for incentives.
Shiv Newaldass, the city's director of development services, said it will fast-track permits for developments and new restaurants that help downtown.
"Hollywood is being established as the next place to be," he said.
Coming to Hollywood
For more than a decade, the largest development sites on Young Circle were tied up in litigation or owners unwilling to sell. Older, unused buildings, while considered historic, sat in disrepair. Undaunted, Abele, CEO of GCF Development, moved forward with his projects.
He started working on development around Young Circle about 20 years after he was approached by a lobbyist, Abele said. He liked that Hollywood is halfway between Miami and Fort Lauderdale, so it seemed poised to be the next center of development.
"The city of Hollywood is in an amazing location for an urban downtown," Abele said. "We see a lot of demand for residents here, and that will push demand for retail."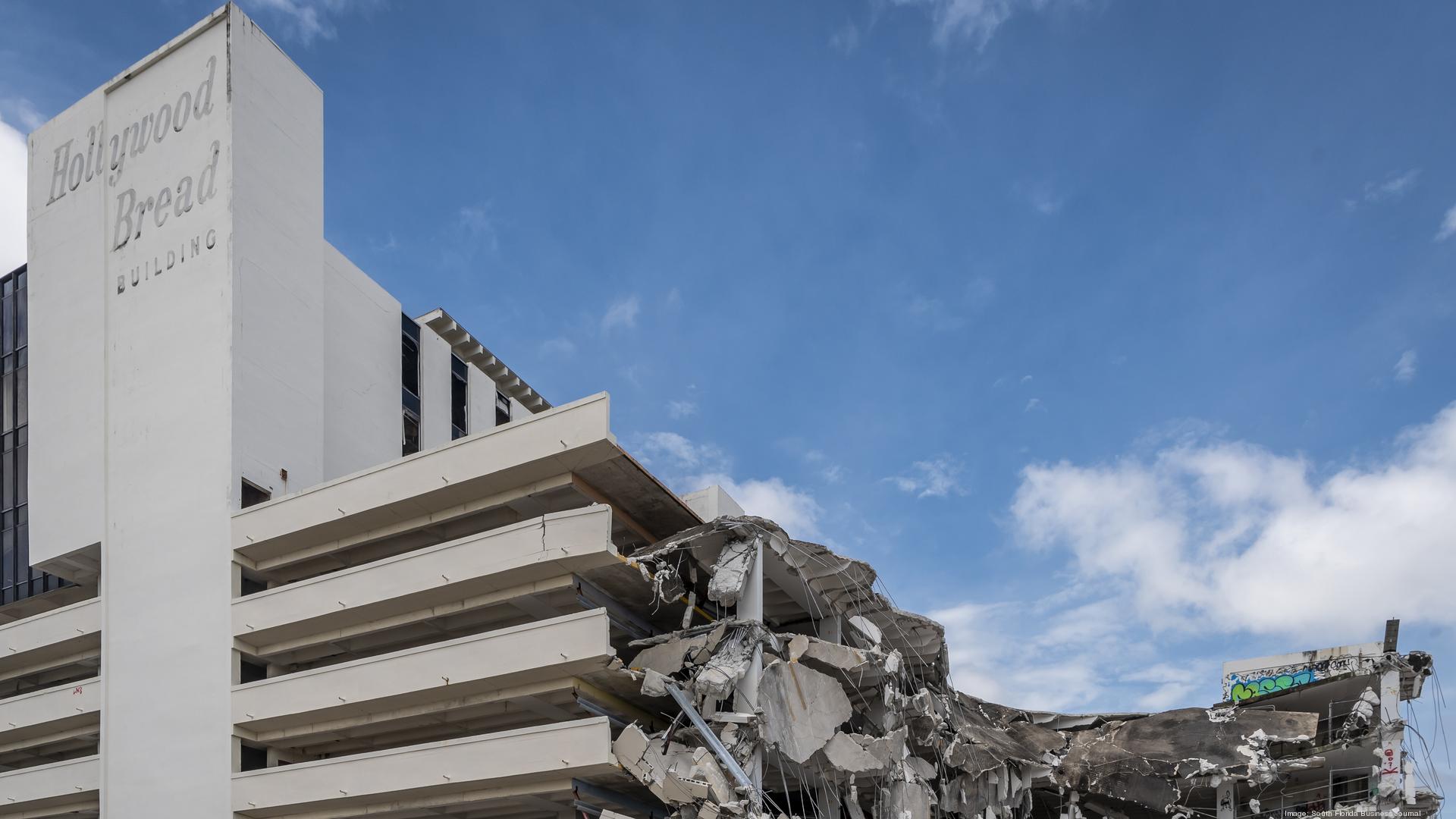 BTI recently tore down the Hollywood Bread Building to make way for a new project.
Jock Fistick / South Florida Business Journal
Noah Breakstone, CEO of Fort Lauderdale-based BTI Partners, said he has over $500 million in development lined up for downtown Hollywood because it's in an ideal location, near the beach and Interstate 95, with the ArtsPark at Young Circle providing space for recreation and events.
"People want to walk to the park or the ocean or restaurants," Breakstone said. "People are yearning to be outside and enjoy that space."
Development wave
BTI Partners recently tore down the old Bread Building and expects to start construction of 362 apartments with ground-floor retail near the end of the year. In the second half of 2022, Breakstone hopes to break ground on an even larger project on Young Circle: two 35-story towers with 802 apartments, plus retail and offices.
Rents will be less than in downtown Fort Lauderdale, but higher than Hollywood's existing housing stock.
"When looking at reemerging neighborhoods and putting up mixed-use development, you also have to believe your rents will surpass neighborhood rents and take that leap of faith," Breakstone said.
Abele said the apartments at the Circ are doing great, with rents increasing, and the Publix on the ground floor has terrific sales. Block 40, with 273 apartments, is slated to be ready by January.
"We've always thought they would really activate downtown," Abele said of his two projects. "They will add to downtown traffic for entertainment, shopping and dining."
Steve Berman, CEO of local developer Firm Realty, is building a 50,000-square-foot office in downtown Hollywood without any preleasing. Most of the city's tenants are small professional firms or startup businesses looking for 1,200 to 2,400 square feet, he said.
"We don't attract the major law firms and large users you see in downtown Fort Lauderdale and Miami," Berman said. "Traditionally, we get local companies and professionals already in the area who are looking for nicer office space."
As the city attracts more residents and restaurants, he expects more companies will want to locate there to be part of the scene.
Berman will help that happen, as he agreed to sell the SunTrust office building on Hollywood Boulevard to Miami-based Estate Cos., which secured approval for 324 apartments and 30,000 square feet of retail there.
"That will put residential living directly on Hollywood Boulevard, and introduce a higher scale of restaurant and retail than exists now," Berman said.
There's also plenty of infill development opportunities on Dixie Highway and Federal Highway, Levy said. Housing Trust Group is building apartments there, and Brightline is interested in putting a station on the FEC Railway in the city.
"We are just scratching the surface on what the RAC area ought to be," Levy said.
Changes on the boulevard
City officials are currently considering new street configurations for both Hollywood Boulevard and Young Circle.
The CRA's Camejo said plans call for wider sidewalks and more shade trees on Hollywood Boulevard to enhance walkability and double the outdoor dining space.
"The challenge for any city is to differentiate themselves in the marketplace," he said. "We have a unique pedestrian environment with Young Circle and walkable streets. That is what lures people."
That may not be enough to overcome the inefficient building designs there, Abele said. One of the reasons there are high vacancy rates and low rents on Hollywood Boulevard is because the buildings are not configured well for modern retail, often 24 feet wide by 130 feet deep. Most retailers can't use the back half of those buildings, so they are challenging to rent, Abele said.
Abele suggests that the city buy the rear halves of buildings and widen the alleyways to create retail-lined courtyards.
As for Young Circle, when BTI Partners completes its two towers, Hollywood Boulevard will have direct access to the park and it will have a straight view of the beach.
"That will reshape the Hollywood skyline and add density, allowing people to stay in place with the restaurants and retail," said attorney Keith Poliakoff of Fort Lauderdale-based Government Law Group. "The biggest problem for years was there wasn't enough residential mass to make downtown a success. Finally, there will be significant mass for food trucks and art shows and music festivals."