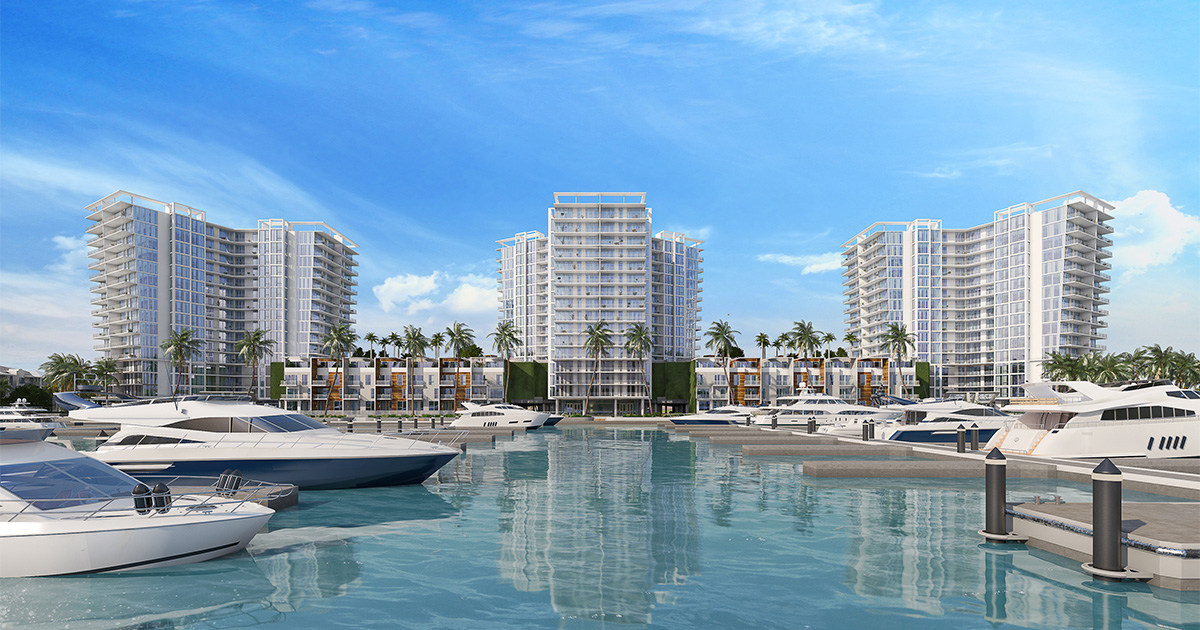 Recognitions include Residential Housing Community of the Year and Best Mixed-Use or Multifamily Community.
Marina Pointe at Westshore Marina District, a luxury condominium tower developed by BTI Partners in the heart of South Tampa's premier walkable community along Tampa Bay, was recognized as a recipient of several Gold and Silver awards at the nationally recognized, Southeast Building Conference's 42nd annual Aurora Awards. The Aurora Awards program is affiliated with the Florida Home Builders Association and the Southeast Building Conference.
Marina Pointe won a Gold Award in the Residential Housing Community of the Year – Masterplan category. A Silver Award was received in the Best Mixed-Use or Multifamily Community category.
The Aurora Awards encompasses all facets of excellence in the residential, commercial, and remodeling industries. In recognizing Marina Pointe with several Aurora Awards, the judges noted particular excellence in architecture, design, and overall development of a new project.
"Marina Pointe was designed to embrace the truly unique beauty of its surroundings directly on Tampa Bay, with unobstructed views of downtown Tampa and St. Pete," said Noah Breakstone, CEO of BTI Partners, the developer behind Marina Pointe. "The Aurora Awards celebrate our commitment to bringing a new level of contemporary sophistication to Tampa's waterfront lifestyle, including state-of-the-art amenities, unparalleled access to curated retail stores, waterfront restaurants, watersports, urban trails and parks, and direct access to Marina Pointe's brand new, deep-water marina."
Marina Pointe will also include a 24-hour concierge, a fitness center, an amenity deck overlooking the marina, a resident club with an entertainment room, and a virtual golf simulator, among other amenities. Individual condo unit sizes range from 1,800 square feet to penthouses over 5,000 square feet and offer a variety of floor plans, ranging from two to four bedrooms. The residences are priced ranging from the low $800k's to over $3 million.
Finding inspiration in the breath-taking views of the bay, BTI Partners designed the luxury waterfront condominium to feature expansive open-living areas with up to 11-foot ceilings, floor-to-ceiling glass walls and windows, and oversized balconies with panoramic views of Old Tampa Bay and Downtown St. Pete on the horizon.
To learn more about the luxury condominiums at Marina Pointe, visit the website here.
About BTI Partners
BTI Partners is one of Florida's leading real estate and land developers. The company is reshaping cities across Florida by master-planning vibrant mixed-use communities, building luxury residential projects in strategic locations, re-activating marinas, and revitalizing neighborhoods with highly amenitized commercial and residential developments in urban areas. Core values of integrity, passion, excellence, selflessness and purpose are central to the company's ethos. Its successful track record has established BTI Partners as an industry leader in creating urban enclaves that attract and sustain local business and family life. By seamlessly integrating residential, commercial, retail, hospitality, entertainment, education, and recreational uses, BTI Partners designs highly desirable 'live, work, play' communities to meet the needs of today and tomorrow. A forward-looking company, BTI Partners remains ever mindful of evolving trends and continuously seeks opportunities to develop transformational and inspirational mixed-use projects through-out the sunbelt states.