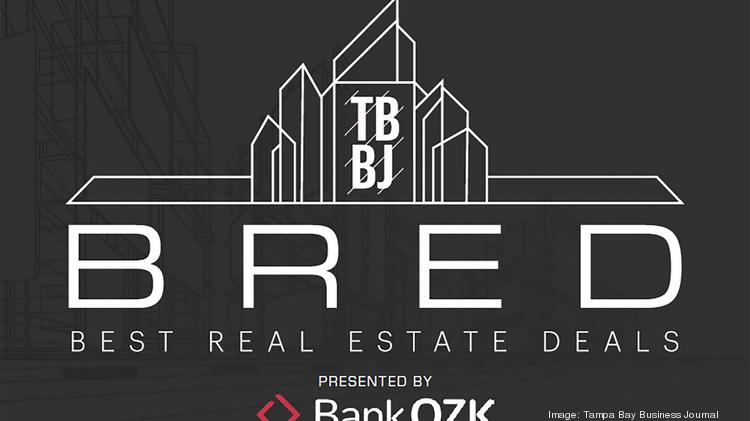 Not even a global pandemic could stop Tampa Bay's commercial real estate market — from white-hot warehouse sales to office leases signed at a time of unprecedented uncertainty in the workplace environment.
The Tampa Bay Business Journal is highlighting those deals and more in its inaugural Best Real Estate Deals awards. BRED honorees will be celebrated at an event at 4 p.m. Dec. 13 at the David A. Straz Jr. Center for Performing Arts in downtown Tampa.
This program recognizes Tampa Bay's most prominent real estate deals and developments announced, completed or that broke ground between June 30, 2020 and June 30, 2021. These projects will transform the local economic landscape for decades to come.
"For decades, the Tampa Bay Business Journal has closely covered the region's largest projects that will shape Tampa Bay for generations," said Publisher and Market President Ian Anderson. "We're looking forward to celebrating those who continue to push Tampa Bay's growth to new heights, especially given the unique challenges brought upon by a global pandemic. Their success sends a signal that Tampa Bay not only remains open for business but is a thriving, growth-oriented community ready for what's next."
Over 100 nominations were received, and an internal panel of judges decided on this year's honorees.
Here are the honorees:
Deal of the year: The Motor Enclave
Retail project of the year: Westshore Marina District
Developer of the year: The Related Group
Dealmaker of the year: Ryan Reynolds, CBRE Inc.
Industrial sale of the year: Prologis Inc., Amazon warehouse sale in Auburndale
Development of the year
The Sanctuary at Alexandra Place
Midtown Tampa
Water Street Tampa
Community impact
USF Research Park Expansion
Uptown Sky
Nancy Surak, Land Advisors Organization
Top hospitality project
Hotel Haya
Seminole Hard Rock Hotel and Casino
Top industrial deal: Cardinal Health and Snyders-Lance at Oak Creek
Recommended
Multifamily deal of the year
Anchor Riverwalk
Verso Luxury Apartments
Trellis at the Lakes
Office deal of the year
ConnectWise lease at Park Tower
Heritage Insurance lease at Westshore City Center
Pfizer Inc. office lease at Heights Union
General Dynamics at 100 Carillon
Top reuse/rehab project
Westshore City Center
Florida Avenue Brewing
The Grove Apartments and The Bahia Apartments, TLR Group